Non - Surgical Spinal Decompression at Kaiser Family Chiropractic in Fairburn, GA
Spinal decompression is a non - surgical, traction based treatment for herniated or bulging discs in the neck and low back. Anyone who has back, neck, arm or leg pain caused by a degenerative
or herniated disc may be helped with non-surgical spinal decompression. These lumbar (low back) conditions that can be helped with non-surgical spinal decompression include herniated or bulging discs, spinal stenosis, sciatica, facet syndrome and spondylosis.
In almost all cases, the treatments are completely painless. In fact, many people fall asleep during the spinal decompression session. The number of sessions needed and your specific treatment plan will be determined after a thorough consultation and exam are performed. Some cases may need an MRI study before a care plan can be initiated or discussed. If needed we can directly refer and access several MRI centers local to the area. Access to previous MRI studies can be very helpful in determining the need for care, but not always necessary. If you have previous MRI studies, please bring them to the initial consultation.
Non-surgical cervical spinal decompression works on the same principals as lumbar spinal decompression.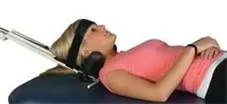 Pressure from within a damaged or degenerated disc can be alleviated, removing interference from around the nerve root, helping to alleviate pain and other radiating symptoms (numbness, tingling, headaches,etc). The radiating symptoms from stenosis or a disc bulge or herniation in the neck usually occur in the arms, hands, fingers and upper back.
Dr. Paul Kaiser has been successfully treating sciatica, spinal stenosis, facet syndrome and bulging or herniated disc patients in his Fairburn office with non-surgical spinal decompression for 12 years. Call 770-306-2520 to schedule a free consultation.